How Does Track Lighting Work?
---
Track lighting has since evolved from its industrial, chunky design to a sleek, modern look that fits elegantly into any home décor. Better still, track lighting has revolutionized art lighting, providing utmost flexibility and precision in the illumination of art in galleries, residential homes, and commercial spaces. So how does track lighting work?
Track lighting systems are lighting solutions that consist of an electrical track that powers a series of track head fixtures attached to it. The track has copper conductors running through its length, which allows it to light any track head fixture attached to it.
Positioning the track heads at least 4-inches apart, you can easily design your track lighting system to support as many light heads as you need it to, simply by designing for a longer track. For this reason, they are often a great choice for when your need to install multiple lighting points from a single junction box, without having to drill each lighting point into your ceiling.
To fully understand how track lighting works, we first need to discuss the various components of a track lighting system.

Components of a Track Lighting System

Three main components make up the track lighting system:
· Track Lighting Heads
The first consideration you need to make when planning for track lighting installation is the track head. Track heads come in a wide range of design options, finishes, and specifications to fit their intended purpose. For example there are some track heads that can be fitted with an accessory called a "framing projector". Framing projectors can be adjusted so that their light hits in a square or rectangular area that will match the shape and size of your canvas. These are especially useful with large artworks that are too big or especially too tall (any canvas over 50 inches tall will get better coverage from a framing projector than an art light fixture. Low voltage fixtures and LED track heads are commonly used due to their energy-saving properties.
· Tracks
Tracks come in standard lengths of four feet, six feet, and eight feet, but track lengths can be cut and connected to achieve any desired length. With Right Turn components, Left Turn components, and cross beam components it is possible to create any type of straight line track design. Go in and out of corners, up and down raised ceiling components, and around the edges of any room no matter how small or large.
While track does come in eight foot sections, because you can easily splice two four feet sections together it is much preferable to order your track in four foot sections. This limits the awkward shipping costs and keeps lost and damaged packages at a minimum. Most of the time four foot lengths are best to work with.
As to Track Type, there are three main standard track lighting systems alongside other additional modern track systems; namely, Halo, Juno, and Lightolier track lighting systems. When selecting components for your track light installation, it is crucial to ensure that both your track heads and tracks belong to the same track system for compatibility. This is why you must pick a track type and stick to it. Whenever you buy a new track head you need to remember if you have J-track, L-track or H-track. Since components of these systems are not interchangeable, an H-track light head cannot be paired with a J or L track and vice versa.
· Transformer
A transformer is usually needed for low voltage track fixtures that operate at a low voltage levels compared to the line voltage. The transformer steps down the raw voltage supply to low voltage levels that are safer according to the power ratings of the track lighting system.
Non Linear Track Options
Other than the standard linear track lighting systems, there exist monorail track lighting systems and cable track lighting options. Monorail system is characterized by a flexible rod slightly suspended from the ceiling by a rod. This flexible track lighting can be curved or bent up to a 30-degree range. On the other hand, cable lighting features track heads that are directly suspended on exposed cables, in place of tracks or rails.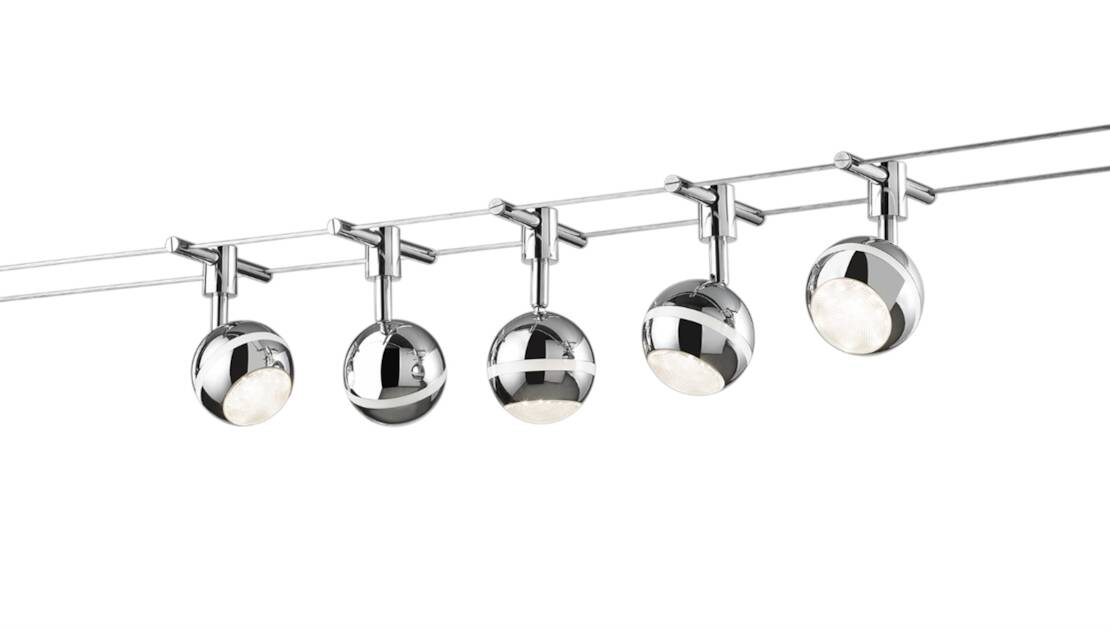 Track Lighting Installation
While track lighting offers quite an easy process of installation, it is advisable to hire a professional electrician to handle any electrical works to avoid potential electrical hazards. Otherwise, go for plug-in track lights that you can easily plug into your home socket.
If you're entirely confident that you can pull off the installation of hardwired track lights, always start by switching off power at the mains supply. Mark out the positioning of your tracks onto the ceiling, preferably 20 to 40 inches from the wall, paying attention to the position of the junction box. All track lighting systems come with installation manuals that you can follow to successfully install your track lights.
You will need accessories such as toggle bolts and studs to secure your tracks onto the ceiling, wire nuts to ensure electrical connections of the cables to the junction box, connectors for joining the tracks, end connectors to complete the lighting circuit, and a mounting plate among others.
Methods of Mounting Your Track Lighting System
While you may opt to leave the installation of the track light to a certified electrician, you still need to decide on the method of mounting your track light. Track lights are most commonly ceiling-mounted, for ceiling heights up to 10 feet high. For higher ceiling heights, track lighting systems can be suspended from the ceiling to the required height.
A track light fixture can also be mounted on a wall, a sloped ceiling, or installed as recessed lighting. In the case of recessed light, you can install your recessed track kit into your false ceiling, or simply create a bulkhead for your track.
Operating your Track Lighting System
Once you have your track lighting system installed, it is time to explore all its capabilities to achieve a well-thought-through lighting solution for illuminating your artworks. Below are some of the main operational aspects you can tap into to light your art like a pro and make the best out of your track light.
1. Light Intensity Adjustment
Track lights offer directional lighting, a feature that makes them great for your art lighting needs. This allows them to provide a more focused light onto your painting, illuminating it to a higher level of brightness than the ambient lighting in the room. It is therefore key to consider the delivered lumens as well as the Center Beam Candlepower (CBCP) of your LED track light when purchasing it.
Modern track light models come with dimming capabilities that allow you to control the lighting levels of your track light throughout the day. Dimmers ensure that your artwork receives just the right amount of lighting, since brightly lighting your paintings may wash out the colors, and dimly lit paintings may appear darker and duller. Getting just the right amount of lighting will make your artwork visually bold and vibrant.
2. Changing the Lateral Position of your Track Head
To change the position of the track head along the track, first, switch off the power from the mains. Turn the track head anticlockwise to dislodge the prongs, move it along the channel to the position you need, and then turn it clockwise to secure it to the channel once again. These instructions, however, may vary with different models. Ensure you read your track kit manual and instructions after installation.
3. Aiming Your Track Light
Most track light models allow for both vertical and horizontal aiming of the track head. This is particularly useful in art lighting, allowing you to attain the recommended 30° aiming angle for your artworks, to prevent glare. While there are track heads that can swivel all around in any direction, the majority allow for up to 90° vertical aiming and up to 350° horizontal adjustment. To aim your track head, switch the power on and simply rotate its head until you get your perfect aim.
4. Beam Angle Adjustment
Beam angle adjustment is a highly essential feature when it comes to proper art lighting. It allows you to switch between floodlighting to spotlighting depending on the size of your painting. Investing in a track lighting fixture with precise beam adjustment capabilities allows you to effortlessly frame your artwork for a self-illuminating effect. Alternatively, getting an LED lighting model with interchangeable beam adjustment films allows you to switch between various beam angles as required.
5. Glare Control and Lens Accessories
Track lights are also designed with compatible glare control and lens accessories that you can leverage to achieve quality output for your art lighting needs. Glare control accessories such as the snoots and the cross louvers create soft diffuse lighting that will minimize glare on your artwork. There is also a honeycomb louver glare control device. The cross louvers and honeycomb louvers are chiefly beneficial if you are looking at the track head, but there is often still reflection wherever light hits glass. Glass is reflective, and no matter what you should expect that there will be angles at which a glass covered artwork will reflect the light bulb and associated glare of either art lights or track heads.
Other lens accessories such as beam elongating accessories, spread lens accessories, frosted/clear lens accessories, and colored lens accessories, offer you utmost control over the functionality and output of your track lights.
One accessory, which is only for certain projectors, is the framing projector. By maneouvering fins that close and open the track head beam in a type of aperture device, you can create light that stays in a square or rectangular beam, and you are in control to a large extent, which helps when you want to have a beam of light hit the artwork and not generally wash over the wall.
Conclusion
Track lighting offers impressive versatility for all your accent lighting and art lighting needs. Invest in quality LED track lighting or rail lighting, taking into consideration the wattage of your track lighting fixture and the light bulb type. Once you have your track fixture installed, explore all the above adjustments, features, and capabilities and watch your art transform into a captivating masterpiece. Perfect Picture Lights has an assorted selection of track lights with specifications that are particularly designed to bring the best out of your artwork.
---
---