Lisa Ficarelli-Halpern: Colorist Extraordinaire
---
Contemporary Artist Revisits Ages Past
To see our full Fresh Canvas Artist Video Interview just scroll through to the bottom of this page.
Art History with a Touch of Fashion and Tech
Contemporary figurative artist, Lisa Ficarelli-Halpern, has a unique approach to her art practice. She combines her passion for art history with current styles in both technology and fashion. Furthermore, while embracing her background in design and combining it with elements of classic art styles such as Baroque and Rococo, she focuses on duality.
Collecting Visual Information
Through diverse artworks—oil paintings, sculptural pieces, works on paper, and even installations—Ficarelli-Halpern explores the coexistence of the old and the new with works that harmonize the traditional with the modern. She takes elements from art historical genres and updates them. Following painterly tradition and couture, she uses vibrant colors and sparkly textures and surfaces to produce aesthetically captivating compositions.
Through vintage and contemporary images, her artworks highlight how the familiar harmonizes with innovation.
Referring to herself as a collector of visual information, Ficarelli-Halpern gathers visual stimuli she encounters throughout life, such as a painting in a museum or what someone walking down the street is wearing.
She takes in what she sees, old or new, and draws connections from patterns, colors, and other references.
Though she often refers to historical documents to inform her work, Ficarelli-Halpern embraces the personal aspects of what she experiences, such as in her current developing series, the Corsage series. These Dutch still-life-inspired artworks embrace a sense of intimacy and emotional connection through various depictions of different flower corsages combined with personal accessories.
A Painter's Career By Design

"I feel like 50-50, I'm pretty strong, you know what they call fine art and what they call design. I think that one really does support and help the other for me."
Ficarelli-Halpern started her art career as a designer. She received her BFA in surface design from Parsons School of Design. She was the executive designer for the Polo Ralph Lauren Corporation and worked in the home collection design team. In her position, she worked with historical textiles and ornamental Baroque. However, Ficarelli-Halpern had always wanted to pursue oil painting. After retiring from corporate design, she decided to follow her passion and received her MFA in painting from New Jersey City University. She embraced her design experience to formulate her painting style.
Today, her interior design background informs her practice. Her recent exhibition, Attachment: Lisa Ficarelli-Halpern combined her interior design background and art historical styles. The 2020 solo exhibition featured a sculptural installation and several ink drawings, portraits, and still-life paintings. Each artwork exhibited alludes to art historical styles such as Rococo and Baroque while embracing a more vibrant palette. Furthermore, a ribbon weaves throughout the show, tying it together, becoming almost a part of the architecture as the artist alludes to past interior décors like regency period interiors. Additionally, it references her experience in staging products in environments while at Ralph Lauren.
Taking Portraits Out of Mothballs
The influence is apparent in her portraiture as well. It appears through repeating patterns and highly stylized aesthetics that reference her time as a design engineer. Some of her portraits, such as King, after Van Eyck, include pattern stylings referencing fashion prints.
More specifically, the background of the painting incorporates design elements inspired by Italian fashion designer Emilio Pucci.
She takes the geometric and kaleidoscopic designs from Pucci to create oval designs to complement her updated take on the iconic painting Man with a Turban by Belgian master painter Jan van Eyck.
A Feeling For Color
Portraiture is one of the genres Ficarelli-Halpern uses to reimagine art historical imagery. Her portraits often reinvent iconic artworks by the Old Masters, such as Jan van Eyck, Élisabeth Vigée Le Brun, and Johannes Vermeer. By increasing the light within the composition of historical images, by using brighter and softer tones, and by imbuing her work with sparkly textures, she updates them. Additionally, she upgrades their outfits, accessories, and hairstyles to follow modern fashion trends. She often gives them recognizable fashion designer-inspired clothing, adds facial jewelry, gives them tattoos, or embraces a disco aesthetic. However, her use of color truly brings her interpretation of traditional portraiture into the 21st century.
Referred to as a colorist by fellow artists and colleagues, Ficarelli-Halpern embraces her love for color in her practice. Using a bold or pastel palette allows her to create a modern version while still alluding to tradition. She strives to use color successfully without overwhelming the viewer.
Her unique approach to color and its theory in her paintings adds that contemporary twist to a familiar image. Traditionally dark painting genres come to life with her vibrant use of colors and reflective details.
For example, her artwork, Spangle After Vermeer, offers a new interpretation of the recognizable work, Girl with a Pearl Earring by Johannes Vermeer. The original Dutch Golden Age portrait features a young girl wearing a turban and pearl earring while looking back at the viewer. Vermeer completed the painting in the styling known as a tronie, which focused on facial expressions and was a lifelike portrayal rather than an actual subject.
Vermeer's evocative image, a masterful exploration of the contrast between light and shadow, innocence and maturity, has intrigued viewers for centuries.
Even today Girl with a Pearl Earring leaves modern viewers wondering how he managed to embody such powerful ideas so simply in the backward glance of a young girl.
Spangle: A Modern Tronie?
Captivated by the timelessness of Girl with a Pearl Earring, Ficarelli-Halpern decided to adapt the painting to reflect a more contemporary style and embrace modern fashion. Her rendition keeps the original facial expression, pose, and color palette with a slight brightening.
Changing her modest outfit to a party dress, adding the disco ball to replace the pearl, and including a glory of hair previously hidden under a turban modernizes the work of Vermeer.
Ficarelli-Halpern thus reimagines Spangle as an updated version of a tronie. Both images depict idealized versions of a young woman that capture romanticized views concurrent with their periods.
Here again, as she did with King, After Van Eyck, the artist updates Vermeer's dark background with stylized design elements and a fresh color palette.
Rococo Alive: A Modern Perspective
Characteristics of the Dutch Golden Age are not the only historical nuances appearing in her artworks. Her visual aesthetic alludes to other classical art styles such as Baroque, Renaissance, and Rococo.
Ficarelli-Halpern embraces the prominent details, exuberance, and grandeur of Baroque art. The realistic interpretation with a dramatic flair of the Renaissance and the elaborate ornamentation stylings full of curvy lines and soft pastel colors of Rococo.
The ornate and decorative style of Rococo is apparent primarily in her printmaking and other works on paper. Ficarelli-Halpern takes linear graphic images and imbues them with personal technological devices.
Continuing her exploration of duality, imbuing images from the past with the colors, culture, and ideas of the present, Ficarelli-Halpern juxtaposes the lavish and gilded decorations of the 18th century, such as the cherubs, with modern technology like cellphones and laptops in her silkscreen Tech Cherubs.
Rococo Mask
Furthermore, the breadth of her work often revisits gold ormolu decorative motifs and lighthearted scenes of nature or amorous encounters characteristic of the extravagant French style.
Another direct influence and connection of the styling of Rococo are apparent in her illustration Rococo Mask.
The gouache and ink on paper piece take direct inspiration from a gate detail at the Petit Trianon, Marie-Antoinette's château in the Palace of Versailles.
Though the structure presents a transition to a more sober and refined style, the influence of Rococo remains in many of the decorative objects.
Duality, Challenge and Discovery
Ficarelli-Halpern's artworks invite a sense of discovery. They offer old and new art styles in surreal compositions that blur the lines between classical and modern art.
Furthermore, her practice challenges the established concepts of old masterworks through her technique and content.
Viewers see recognizable materials and motifs that create a cohesive narrative and descriptive theme.
However, what they see blends contemporary imagery with historical references.
You can learn more about this artist at Lisa Ficarelli-Halpern or follow her on Instagram lisaficarellihalpern.
The Complete Video Interview
___________________________________________________________________________________________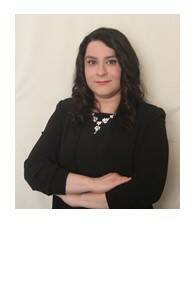 Claudia Preza is an independent curator and art writer based on the U.S./MX border with over seven years of experience working in museums and galleries. She holds an MA in Museum Professions with a concentration in Exhibition Development and a BA in Art History. Her work focuses on artists exploring innovative ideas and themes of identity.

---
---