If you have been to San Francisco anytime since 2013, you may have witnessed thousands of LED lights illuminating the Bay Bridge. The Bay Lights is now a permanent light installation, and San Francisco has artist Leo Villareal to thank for this masterpiece. Villareal's artworks have gained a reputation for being new and exciting in the art world. But more impressively, his works occupy the real world, where countless travelers can find their journeys transformed by ever changing colors and lights, turning ordinary commutes into passages of electric wonder.
The Bay Lights was opened in 2013 and consists of 25,000 LED lights (over a distance of 1.8 miles) on the San Francisco-Oakland Bay Bridge. The $8 million installation was originally designed to celebrate the 75th anniversary of the bridge.
The fascinating project has even led to the documentary Impossible Light (2014) that explored what went into its creation and funding. The film explores the journey of The Bay Lights - from idea to manifestation.
Though it was supposed to a temporary installation, in 2016, it was reinstalled with permanent fixtures. It continues to illuminate the Bay Area night sky from dusk to dawn every day. According to analysts from firms such as McKinsey, Google, and Deloitte, the Bay Lights will add around $100 million to the local economy annually. Leo Villareal talks about some of the creator journey in the video below.
Who is Leo Villareal?
Leo Villareal is a New-York based light artist known for his installation pieces (oftentimes large works of public art) that use LED lights and computer coding to create art. Pace Gallery describes his work as using "pixels and binary code to create complex, rhythmic compositions in light."
Villareal was born in 1967 in Alberquerque, New Mexico, and raised in the neighboring city of El Paso, Texas. He went on to study at Yale (B.A. Sculpture) and then at NYU's Tisch School of Arts (Interactive Telecommunications Program).
Today Villareal is known for his stunning installation works. It did not, however, begin this way. The artist became interested in the combination of light and software a few years after graduating from Tische.
Leo Villareal had been a regular at the famous Burning Man festival held every year in the Nevada desert. During the night, he kept getting lost due to the darkness. It was this had led him to create a 16-strobe light beacon and bring it with him to the 1997 Burning Man festival. He attached it to the top of his group's RV to make it easier for his friends and him to find their way back home at night.
Though this light fixture was supposed to be solely a "utilitarian" thing (Villareal's own words), it ended up opening his eyes to the potential of the wonders of light and software combined. Villareal ended up bringing the light sculpture Strobe Matrix (1997) back home to NYC.
Read also: Inside The Borderless World of TeamLab
Painting Over The World With A Skin of Digital Lumenescence
Artist Leo Villareal's sculptures blend art and science, technology and aesthetics. What makes Villareal's works new and fascinating is his ability to seamlessly blend light and software to create something unique. The contemporary artist works with a team of technologists and coders to bring his macro visions to light and life, never letting the technology take over the art.
In an interview with Urban Omnibus in 2012, Villarreal spoke about what he believes distinguishes his work. "I'm bringing something that's digital out of the computer and into the world as an object." When we travel through his sculptures, just to get from one place to another, as well we travel on the subway or drive over a bridge, we are partaking of his digital experiences like an unexpected and transfixing passage of wonderment. Plan your music accordingly!
Villareal's software allows him to "play with different gradients and layers, and has the ability to translate between 3D data and 2D data." The possibilities are countless: he can use it to add or remove layers, add color to these layers, generate patterns and choose how they move, and increase or decrease their speed. Further, his LED installations are constantly evolving, thanks to the also constantly evolving software.
The artist has time and again mentioned that his work is almost painterly in the sense of finding the right combinations, as such his work can be seen as very compositional.
Read also: Princess of Polka Dots
Simple Rules Lead to Complex Patterns
After Strobe Matrix (1997), Villareal was quick to begin creating more installation artwork that combined light and software.
His Chasing Rainbows (2004) was created using color kinetics's technology. About twenty LED lights are placed one on top of the other to create this light sculpture. Three such groups exist - one on each of the three walls. Colors and patterns seem to flow into one another in this installation, thanks to the custom software.
However, one must note that fascinating as these installations may be, it wasn't museum pieces that brought Villareal fame and name. For that, we can thank his larger and more technically complex architectural installation works like Multiverse (2008) and The Bay Lights (2013).
Multiverse is the artist's largest installation to date and took him three years to develop. This immersive work of art consists of over forty thousand LED nodes running between 200 foot-long walkway between the east and west buildings at the National Gallery of Art in Washington, D.C. Computer programming has been done in such a way that no pattern is repeated during the time a visitor is experiencing the art.
When one finds themselves walking literally in the art, it can feel almost as if you're having a hallucinogenic experience. The artwork truly captivates you. And yet it brings you where you already need to go.
Read also: Five Illuminating Facts About Dan Flavin
Art Lights Your Travels: Trains Going, Rivers Flowing, Bridges Glowing
While artists have often painted river scenes and picturesque bridges, at times the historicity of a painter's work can reveal even more than the painter might have anticipated. Consider Claude Monet's impressionistic painting, capturing the luminescent atmosphere and changes of light in his work The Thames Below Westminster. By contrasting the almost sleepy world Monet painted with the present day electric and frenetic Thames illuminated not only by Leo Villareal's bridges but the transformed city nightscape of London we can see how profoundly the world has changed.
In 2016, Villareal and architectural firms Lifschutz Davidson Sandilands won a competition to turn London's bridges over the River Thames into a massive work of illuminated art.
In 2019, Villareal completed the first phase of the Illuminated River project. This is the largest artwork the contemporary artist has ever worked on. The project involves illuminating fourteen bridges in central London over the River Thames with dazzling lights. However, unlike Monet, Leo Villareal didn't use a canvas or a paintbrush. He used technology to illuminate the bridge and the river below it.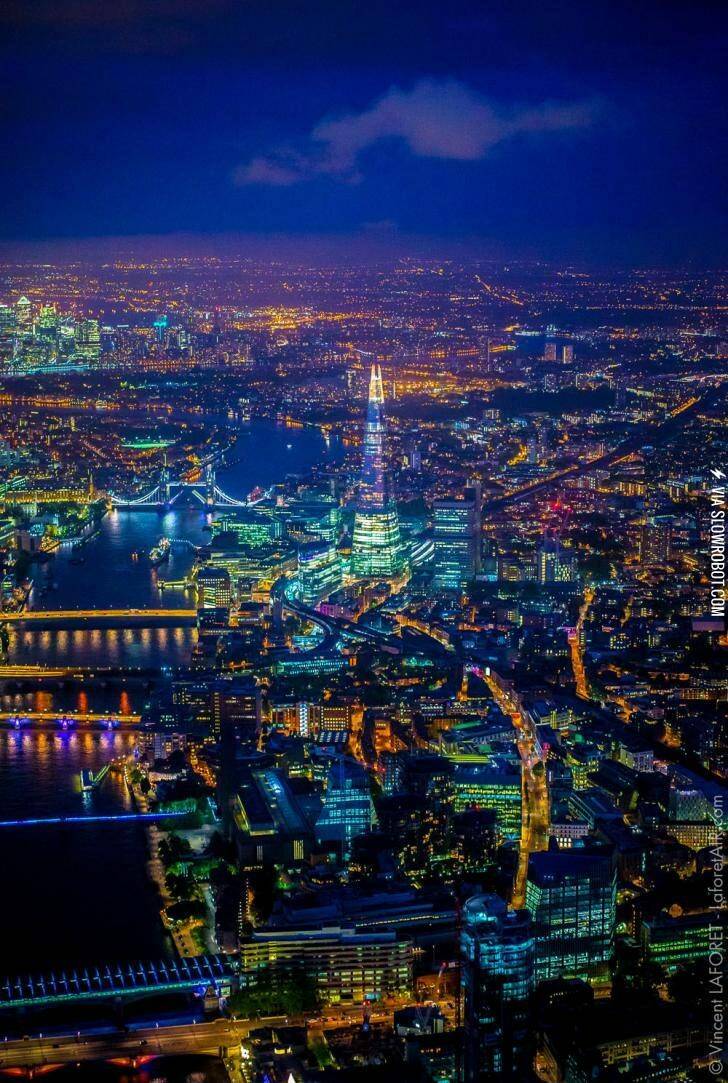 Mainstream Success
The Bay Bridge and the Illuminating River project mark Villareal's entry into mainstream success. Even humble train stations, like The Bleecker Street Transfer Station, fill our ordinary world with pulsing shapes and color.
Held at Pace Gallery, London, one of his latest exhibitions consists of Villareal's new and recent works. One of the highlights of the exhibition is Detector (2019). The immersive work of art is over ten minutes long and consists of creating astral phenomena using patterned illuminations through LED lights.
All in all, Villareal's works are immersive experiences – they pull you in without you even realizing it. You are left captivated by the sight of thousands of illuminating lights that twinkle and dance into the night.
---
---