My Favorite Tips for Art Deco Design
---
Origin of the Art Deco Style
The Art Deco movement began in the 20th Century, succeeding the Art Nouveau era by adding to it a more modern touch. It flourished in the 1960s with the rocketing of pop culture and the bold use of patterns and colors. Luxury then became a key element in Art Deco in the 1980s with the extravagant use of metallic and lavish architectural finishes such as marble, to show affluence.
Today, Art Deco architecture and interior design have evolved into a bold and elegant design choice. It makes use of glamorous handcrafted and statement pieces in its décor and is thus the extreme polar opposite of minimalism.
Characteristics of the Art Deco Design
A number of features are unique to the Art Deco style. They include the following:
Geometric Shapes and Patterns
Art Deco largely incorporates geometric shapes and patterns in every element of its composition. From the architecture to the floors, area rugs, furniture, lighting fixtures, and marquetry, you can incorporate decorative angular and geometric shapes such as zigzags and chevron to achieve this style.
Geometric architecture, Soloman, 2020, via Pexels
Embellishments

Every element in the art deco style is lavishly embellished. Jewels, gemstones, glass, and precious metals add meticulous details to the furniture pieces and lighting. This gives it a more modern look that has kept the Art Deco style relevant over the years.
Sleek, Modern Style
Art Deco interior design has remained practical since the 20th century because it is sleek and modern. The use of shiny metallic accents, glossy finishes, and geometric shapes make it a seamless fit into every modern space.
Grand and Dramatic
Whether it is lighting or furniture, Art Deco pieces are outstandingly grand and dramatic. They draw attention to themselves out of their sheer grand sizes, bold colors & patterns, stunning material choices, or striking accents and accessories. This is what makes the Art Deco style brilliant and glamorous.
Elements of the Art Deco Interior Design
There are various ways to incorporate the Art Deco style into your spaces. The following are some of the elements of the Art Deco Interior Design and tips on how to integrate them to achieve this style.
Art Deco Furniture
Like every element in the Art Deco style, Art Deco furniture is elegant and exceptional. The furniture is made out of exotic materials such as mirrors, mahogany, polished lacquer finishes, and plush leather, with metallic accessories and details. Invest in authentic antique Art Deco pieces or reproduce some of the furniture designs to elevate your space.
Eltham Palace, 2016, via Piqsels
Art Deco Colors
The Art deco style incorporates bold colors as well as neutrals in its color scheme. The classical black and white colors incorporated in patterns present a refined look. For modern and subtle Art Deco interiors, incorporate earthy neutral tones such as brown, cream, and beige. Accent with bold and brilliant colors such as yellows, royal purple, blues, greens, pinks, and red hues for an authentic Art Deco experience. Do not forget to accessorize with polished metals such as stainless steel, gold, silver, brass, or bronze to complete the look.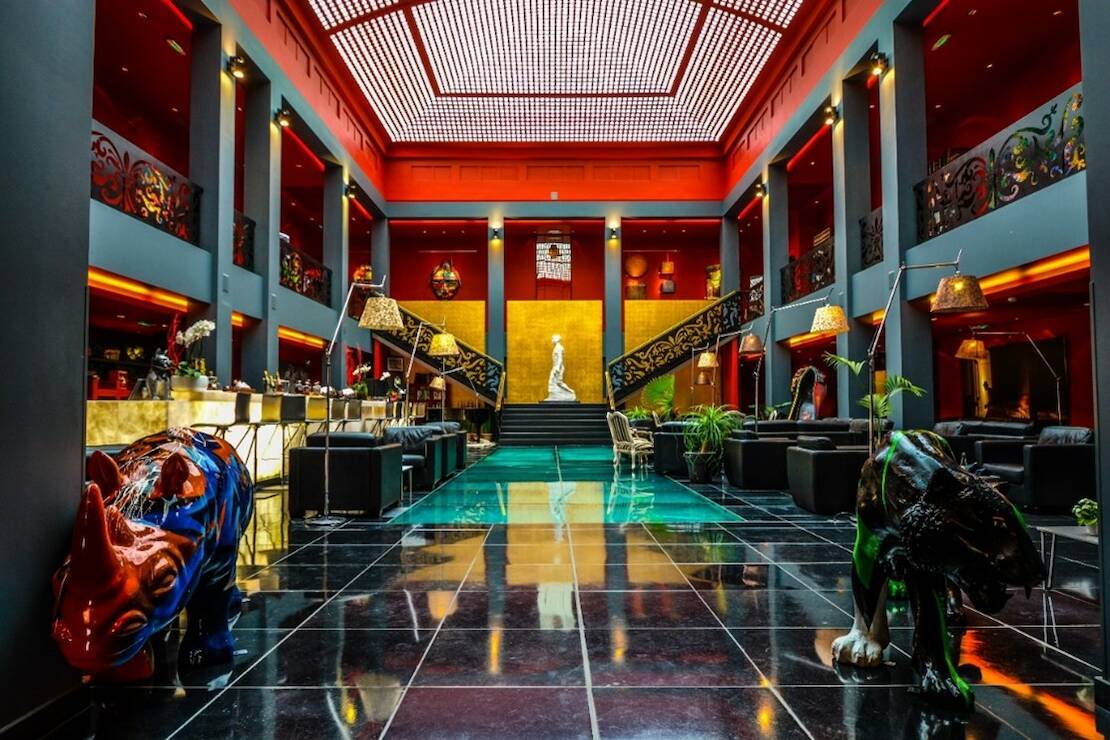 Upscale Luxury, 2017, via Pxfuel
Geometric Background, Annalise Art, 2020, via Pixabay

Art Deco Wallpapers

Wallpapers are the easiest and most cost-efficient way to face-lift any space. Selecting wallpaper that complements your Art Deco interiors is, therefore, very essential. Wallpapers with the basic elements of this style such as metallic finishes, geometric patterns, and bold colors are the way to go.
| | |
| --- | --- |
| Integrate a wallpaper with silver or gold details, and angular shapes, zigzags, or stripes. The Art Deco colors will also add drama and class to your interior design. | Geometric Backgrounds, 2020, via Pxfuel |
Motomachi Station, 2018, via Pxfuel

Art Deco Lighting

Lighting Design formed a prominent feature of the Art Deco era. With the availability of electricity, the design of different lighting fixtures became an essential part of Art Deco architecture, leading to the foundation and development of the lighting industry.
Materials and Design
According to Art Deco Style, the characteristic of Art Deco lighting is in the use of porcelain, glass, and polished, reflective metals to make sleek light fixtures. They incorporate symmetry and geometric shapes in their design. They are similarly grand, large, and vertically long to match the dramatic nature of the Art Deco style.
Wall Lamp, Zotx, 2019, via Pixabay
An article by Country Life describes the Art Nouveau lighting as elaborate, with floral and organic motifs, in comparison to the Art Deco lighting that utilizes simpler designs with angular shapes.
Light Fixtures
For wall light, integrate metallic wall sconces with simple geometric shapes, moldings, or engravings. For the ceiling light, go grand with exceptional chandeliers to the stairwells, lounges, and halls. Incorporate luminaires with porcelain or glass lamp shade for more gentle lighting.
Geometric Lights, Wesley Tingey, 2019, via Unsplash
Uplighting
Uplighting was one of the major inventions of the Art Deco era. It brought a new perspective of indirect lighting to interior lighting design. An uplighting lamp reflects light off the ceiling and creates a softer source of light. Add uplighting lamp fixtures to your interior décor to ace the Art Deco style.
Neon Light
In the 1980s, the use of neon lights in architectural lighting became common as an added feature to the Art Deco style. The addition of the bold and bright neon lights on the exteriors of a commercial art deco building marked the leisure spots for the young and upper class.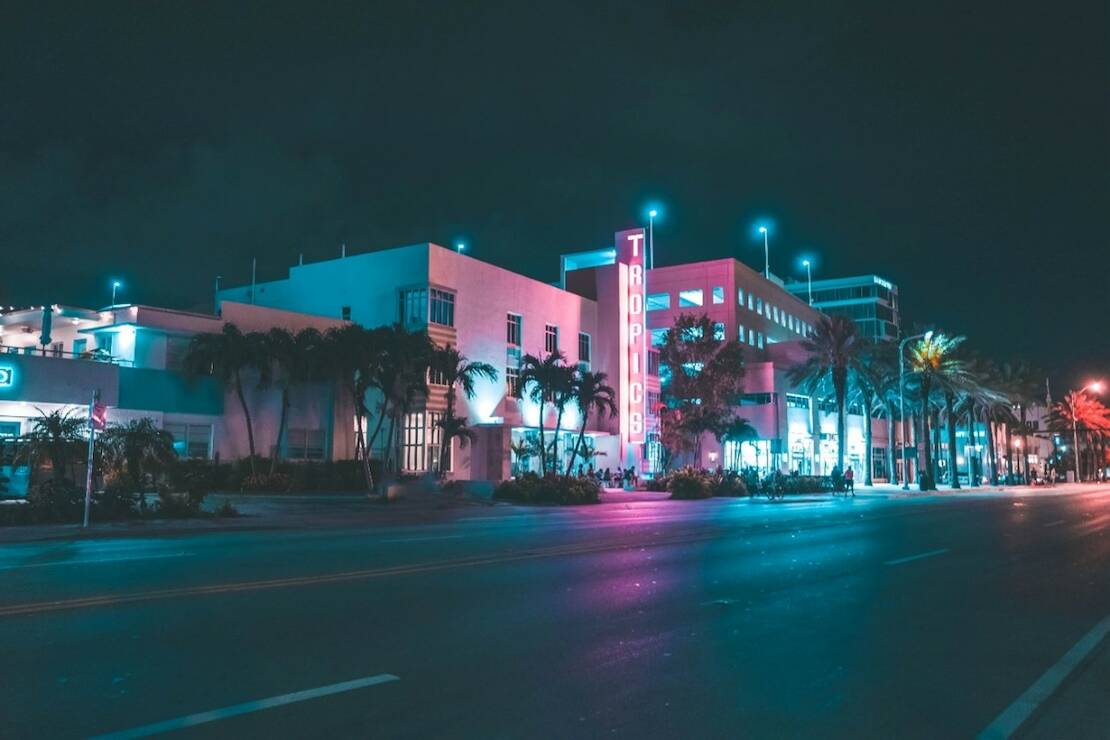 Tropics Hotel & Hostel, Ryan Spencer, 2018, via Unsplash
Bottom Line
The Art Deco style is a luxurious design choice that has stood the test of time. Incorporating any of the above design elements into your interior décor is a perfect way to upgrade your space into the Art Deco style. They are futuristic and elevate every modern space.
Acquiring these design elements need not be a problem. When it comes to Art Deco lighting, look for a variety of stylish options in antique and polished metallic finishes such as bronze, nickel, chrome, gold, brass, mixed metals, and painted alternatives. There are lots of picture lights, direct mount lighting, and uplighting options from which to select. The size is also highly customizable according to your lighting needs.
___________________________________________________________________________________________
Winny Okoth is a practicing Construction Project Manager and Interior Designer. She is also currently pursuing her Master's Degree in Construction Project Management. Winny Okoth has a great passion for every form of design and has the mastery of principles of design, as well as 3D visualizations skills for architectural and interior design renders.
---
---