Top Tips on Minimalist Interior Design and Light
---
Minimalist interior design is a simplistic form of design that emphasizes the toning down of all the elements to the basics. The minimalist aesthetic is the true embodiment of the phrase 'Less is More' where one can achieve the maximum modern and stylish effect using just a few principal components. A minimalist style is sophisticated, orderly, and neat.
Minimalism is not only a timeless design choice, but it also comes with numerous incredible benefits such as improved mental clarity, better organization, minimum distractions, reduced anxiety, and higher productivity. Therefore, if you haven't yet, it might be time to consider crossing over to a minimalist interior design.
Interior Design of Home, Vecislavas Popa, 2018, via Pexels
Read also: 4 Ideas for Designing Your Art-Centric Room

Minimalist Design Principles
Since minimalism bases itself on fundamentals, it follows the basic principles of design. It makes use of design elements such as lines, shapes, texture, color, space, and value in their simplest forms, and then brings them together using the following principles of minimalism:


Repetition and Rhythm
Minimalism makes use of the rhythmic repetition of simple and regular geometric shape options such as triangles and squares. Mostly, the rhythm created by these elements in minimalist design is regular, graduated, or gradated. The organization of the furniture, the textures incorporated, and the light fixtures should all form patterns of repetition and rhythm. It gives a feeling of order and better organization.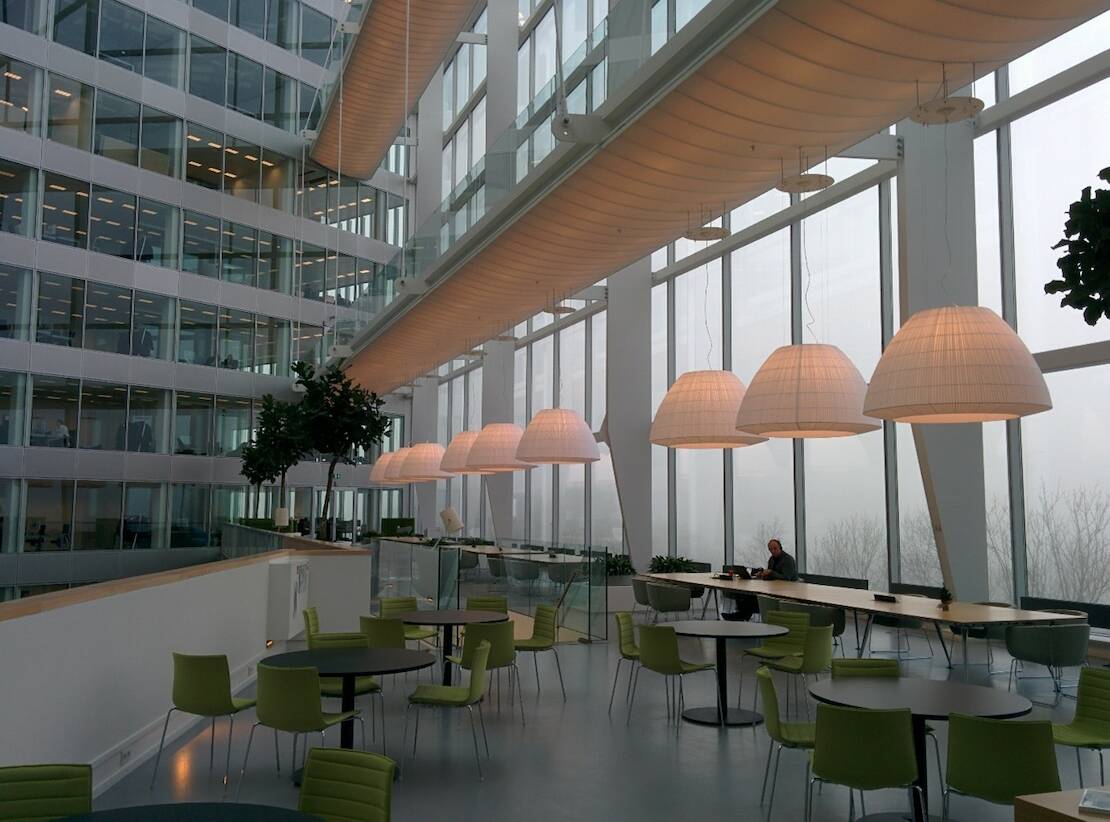 Man Sitting in Front of Desk Indoor, Pixabay, 2016, via Pexels
Read also: How to Hang Pictures on Brick Wall
Symmetry and Balance
Décor Aid highly recommends the use of symmetry in your minimalist interior design. To create a clear and relaxed space, incorporate symmetry and balance through the uniform distribution of elements such as lights, central positioning of art pieces against the walls, and a consistent number of pillows in the chairs or beds. It shows an intentional use of the space.
Two Round Mirrors with Beige Frames, Buenosia Carol, 2017, via Pexels
Precision
Minimalist interior design applies the principle of precision through the integration of sharp clean edges, clear borders, and clean lines. The design largely considers uniform proportions and scales in every element for a flawless look.
Emphasis and Contrast
Minimalist décor incorporates emphasis by having a single focal point that stands out from the other areas of the room. Use of an elegant piece of art, a pop of color, accent lighting, or a contrasting change in size to achieve such emphasis.
U

nity
Minimalist design aims to create a calm and relaxed atmosphere in every space. Therefore, when all is said and done, every element in the room should come together in perfect visual harmony to create that tranquil environment. To achieve this, maintain consistency in the use of color, lines, shapes, and textures throughout the room to bring it all together.



How to Achieve Minimalism in Interior Design
Wondering where and how to get started? The following are a few tips on how to achieve a minimalist style in your interior spaces:

Declutter
Before even getting into minimalist aesthetics, the first thing you need to do to revamp your home for minimalism is to declutter. Minimalism adopts the concept of having only essential items in your décor. Keep only what you need for the functionality of the space. Minimize the use of decorative items and neatly store any non-essential items in closed drawers, cabinets, or stores. Minimalism is neat and organized.
White Wooden Modular Kitchen, Vecislavas Popa, 2018, via Pexels

Appreciate Clean Blank Spaces
Do not fear having empty spaces in your room. Blank walls and floor areas make for a more functional and utilitarian minimalist space. It shows an ability to live intentionally and therefore letting go of consumerism. Minimalist living means being comfortable with having a clear negative space without having the urge to fill it up with distractions. Empty spaces also aesthetically make a room feel larger.

Have a Focal Point
Use art and accent lighting to draw attention to a single focal point in the room. This means that you can only have one show-stopping statement piece in each room to minimize distractions. Therefore, integrating customized light fixtures and minimalist artworks that complement the color and décor of the space is the best way to go. This principle is used in most art-centric rooms.

Embrace Natural Lighting
The first thing you notice about a minimalist interior design is the airiness of the room. This is usually achieved by the use of larger windows and glazed doors that let in a lot of natural light and air from all the natural ventilation. Natural lighting makes the minimalist space more zen, and both visually and mentally breathable.
Photo of Bedroom, Jason Boyd, 2019, via Pexels

Design A Minimalist Color Scheme
Your minimalist color palette should have a maximum of three colors, which is inclusive of all the structural finishes, furniture materials, and art. While black, white or greys are usually the most commonly used colors in minimalism, incorporating a third pop of color is an excellent way to add some contrast and character to the room.
However, moderation is key to this principle. A sixty-thirty-ten percent ratio in color application is recommended in interior design. Therefore, to achieve a minimalist look while still incorporating color, opt for sixty percent of neutral colors as the primary base in your walls, ceilings, and flooring. Add thirty percent of a complementary subtle or faded pastel color in your drapes, furniture, or accent walls, and ten percent of that color detail mostly in your artworks and throw pillows.
Gray Fabric Padded Sofa and Glass-top Coffee Table inside Living Room, Vecislavas Popa, 2018, via Pexels

Select Minimalist Furniture and Accessories

To achieve a minimalist aesthetic, go for high-quality furniture that is sleek and less bulky, therefore not occupying any more space than necessary. Avoid oversize headboards and go for simple beds, small-framed chairs, and tables with clean, sharp edges and unparalleled workmanship.


Incorporate Textures and Patterns

It is still possible to achieve a minimalist interior style while integrating textures and patterns. However, it is important to take care to ensure the minimization of distractions and visual clutter. Opt for simple patterns and textures that fall within your design color scheme and therefore seamlessly harmonizes into your interior décor.

Minimalist Architectural Lighting
With the design elements stripped down to their simplest state, light in interior design plays a crucial role in setting the mood of the space in minimalist home. Home Designing is popularly renowned for using light as the primary tool for creating dramatic transformations to an otherwise simple and monochromatic minimalist space.
Minimalist rooms can cleverly incorporate light fittings not just for functionality, but also for aesthetics. Here are a few ways on how you can effectively achieve minimalist architectural lighting:

Layer the Lights
Incorporate a varied combination of strategically selected and positioned lights fittings to create layers of light in a room. Warmer accent light sources in minimalist design create a cozier feel, while neutral and daylight sources are suitable for ambient and task lighting.

Consider the Illumination Levels
Minimalist lighting design thrives on comfort. Therefore, it is important to extend this concept to lighting as well. When selecting the lamps and light fittings, it is crucial to ensure that the lights are not too dim or too bright as to cause visual fatigue. Assess the recommended illumination level of the space and select lamps with just the right lumens.

Integrate an Assorted Lighting Scheme
The skillful selection and combination of recessed lighting, LED strip lights, pendant lights, floor lamps, and sleek wall sconces are great ways to elevate your minimalist décor.
Minimalist Lighting, Vecislavas Popa, 2018, via Pexels

Select Minimalist Light Fitting Designs
Avoid chunky or flashy light fittings and luminaires. Go for simple and classy light fittings that are modern or industrial. Monochromatic, white, black, or golden fittings also fit well into every modern décor.
Gray Dining Table under Pendant Lamps, Houzlook, 2019, via Pexels

Backlighting
Fresh Interiors recommends the use of backlighting behind your mirrors and artworks. This achieves a glow effect that is subtle and adds an extra depth to the space. Backlighting also adds the desired softness, luxury, and relaxation effect to the room.

Customized Pieces are Best
Go for a customized selection of picture lighting and fixtures that fit your minimalist design needs. Perfect Picture Lights is a brand that prides itself in customized and handcrafted light fittings for art lighting as well as quality mount lighting. Perfect Picture Lights allows for full customization of the lighting products, with regard to the size, cord length, and even a custom finish.


Bottom Line
You can easily achieve a minimalist interior design in your home by incorporating the above principles. Lighting plays an important role, even as you embark on your mission to facelift your home. Declutter, Design, and Light your way into a more minimalist living.
_____________________________________________________________
Winny Okoth is a practicing Construction Project Manager and Interior Designer. She is also currently pursuing her Master's Degree in Construction Project Management. Winny Okoth has a great passion for every form of design and has the mastery of principles of design, as well as 3D visualizations skills for architectural and interior design renders.
---
---