Top 10 Lighting Ideas for your Bedroom Wall Art
---
When it comes to bedroom interiors, bedroom wall art has always been a great way to add a focal point to the room. However, it is in the interaction of the artwork with light that an ordinary piece of art converts into a showstopper. Whether it is a painting, framed wall art, sculpture, mirror, photography piece, printed art, a vintage poster, patterned fabric, or a cutout panel, you can elevate every artistic piece in your bedroom through art lighting. The Sleep Judge has outlined some of the best wall art ideas for the bedroom, that you can try out according to your wall space.
Light serves a great purpose in the display of art. It can create reflections on polished and glossy pieces. It also creates a play of shadows and light that add depth to any artwork. In modern rooms, lighting design is used, where light sometimes acts as an artistic medium of its own, generating creative patterns that add to the aesthetics of the space. With the right choice and quality of light, you can illuminate an art piece to make it look more vibrant and luxurious. This entails considering factors such as the Color Rendering Index, the color temperature, the lumens, the beam angle, and the bedroom lighting levels, among others.
Lighting Fixtures for Bedroom Wall Art
If you're looking to add art lighting to your bedroom, there are various options from which you can select. This largely depends on the type of art, the desired effect of the lighting, and the method of display. Some of the light fixtures options you can use for art lighting in your bedrooms include the following:
1. Track lights
Track lights have been the timeless go-to lighting for artworks in every modern home. The main advantage offered by track lights that make it stand out from the rest is the fact that they are easily adjustable, both horizontally and vertically.
You can easily change the position of your artwork whenever you need to, and then adjust the lighting to illuminate it at its new position.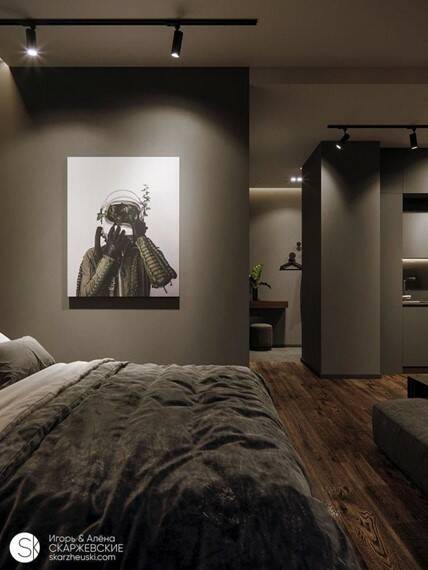 Flexibility, coupled with the ability to support many track heads, makes track lights and framing projectors the perfect application for lighting large art pieces as well as collections.
You can mount track lights directly onto the ceiling, or suspend them to the required level for rooms with higher ceilings. If you only require one track light, consider mounting it solo to the ceiling as a monopoint to add the elegant highlighting without any other apparatus or track set up at all.
Read also: 9 Principles For Luxury Interior Lighting
2. Recessed Ceiling Lights
Recessed ceiling lights, particularly, LED fittings are some of the best lighting options for your bedroom. While they are mostly used for ambient lighting, you can install them in the ceiling above your artworks to wash over your bedroom wall décor.
When mounted flush with the ceiling recessed ceiling lights provide directional light to the intended surface. For bedroom lighting ideas, you can install LED lighting for bedrooms as headboard lighting to add to the master bedroom lighting.
3. Pendant Lights
Pendant lights are a brilliant way to add lighting to any room. They come in such a variety of designs that will fit into any design style. Such lights are usually suspended from the ceiling by a chain, rod, or cord; bringing the light to the required height level for optimum lighting. Pendant lights are especially useful when lighting rooms with higher ceilings.
Pendant lights are usually suspended from the ceiling by a chain, rod, or cord; bringing the light to the required height level for optimum lighting. Those lights are especially useful when lighting rooms with higher ceilings.
For bedrooms, there are many designs customized for the bedside, as well as statement pieces for the center of the room. All in all, there are specific models that can be used for lighting art when needed, to illuminate the art, generate patterned light and shadows, or as sculptural artistic media on their own.
You can install pendant lights as single units. However, where a larger area needs lighting, you can go for a cluster of pendant lights, or a single pendant light fixture with many lamp fittings.
Read also: Wise Art Lighting Techniques
4. Wall Lighting and Bedroom Sconces

Bedroom wall lights and sconces are generally excellent for accent lighting. Bedroom wall lamps can be installed to create either an uplighting or a downlighting effect as desired. You can install your wall sconces on either side of the wall art for balance, or opt for an extended wall-mounted light at the top of the artwork. Either way, it is great for turning heads towards your statement art piece.
The wall lamps for bedroom spaces are often installed at eye level, drawing attention to that given point in the room. This lamp for bedroom areas can also be installed as headboard lighting instead of mounting directly on the wall.
Read also: Top 10 Lighting Ideas for your Bedroom Wall Art
5. Under-Cabinet Lighting
If you need to display your artwork on a display shelf or cabinet, then under-cabinet lighting can do. Although they are most commonly applied as task lighting, by choosing the right specifications, you can use them to draw attention to the artwork on your shelves. Whether it's a family photograph, a printed art piece, or a painting, mounting these lights to your cabinets is a clever and unique way to light the art in your bedroom.
6. Panel Lights
Light panels are a revolutionary way to add character to a modern or minimalist interior. You can create an exceptional illuminated screen for your bedroom, by combining your light panel with a cutout panel of your own design. Laser-cut screens are customizable, thereby giving you a wide range of options to explore. While decorative screens are a beautiful addition to the aesthetics of any bedroom, it is the panel lights that make it truly outstanding. Backlighting a cutout is definitely the way to go!
Read also: Principles of Lighting Design
7. LED Strip Lights
LED strip lights have been used over the years for cove lighting, especially in false ceilings. However, you can also use them to backlight the art pieces in your bedrooms. When applied in this manner, they create a diffused glow at the back of the artwork and along the edges, which allows it to stand out from the background.
Read also: Professional Tips On How To Hang A Heavy Picture
8. Spotlights, Mono lights, and Mantle lights
If you're looking for lighting fixtures for bedroom and some wall lighting ideas for your wall decoration and art, then spotlights, mono lights, and mantle lights are options you should consider. These are mounted on the ceiling for art lighting but can be fixed as wall lights for bedroom spaces. They come in a range of beam angles, which make them perfect for the framing of light for your wall décor idea.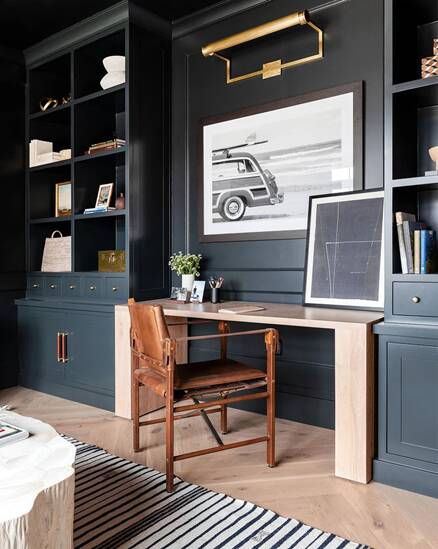 9. Picture Lights
Picture lights are specifically designed for illuminating pictures. They come in different sizes, light types, and finishes, allowing you to select the best option according to your art piece. They hang over the picture, focusing the beam to the center of the art frame. You can select a picture light that is wall-mounted, or opt for a frame-mount, which attaches to the frame. Be sure to select a bulb type that does not generate too much heat, to protect your artwork from any potential damage.
Perfect Picture Lights supplies a collection of high-quality, handcrafted, and customized picture light fixtures for your art lighting needs. With power source options such as direct-wire, plug-in, and battery-operated light fittings; you can never miss the perfect piece for lighting your bedroom wall art.
Read also: How to Hang Pictures on Brick Wall
10. Other Light Fixtures
Ceiling lights, floor lamps, and table lamps are the other light fixtures that you can install in your bedroom for additional lighting. While they may not specifically apply for art lighting, they come in various decorative designs that can add artistic aesthetics to any space. Sculptural and unique light fixtures with ornamental designs are captivating and will certainly transform the décor of your bedroom spaces.
Conclusion
There are plenty of bedroom wall décor ideas that you can incorporate into your home to transform your space. From a framed wall art to a vintage poster, you can customize any wall art idea to fit your taste and preferences.
Furthermore, you can position your artwork in many different places in your bedroom. Whether it is on the accent wall, above the bed, or on an entirely dedicated gallery wall, art lighting is crucial for elevating your décor. Select an abstract art, an art print, a painting, or any other wall hanging and crown it with the perfect picture lights for unique lighting.
You can select a lamp design that fits well into the décor of the room. For boys room lighting, you can purchase cool lamps for boys rooms that project different patterns onto the bedroom wall décor to complement the other bedroom lights. There are so many night light designs to choose from, that act as room decorative lights. The number of room lighting ideas is limitless.
Just like in the dining room, lounge, or any other space in the home, you must carefully select your bedroom light fixtures to fit the desired mood in the space. An adjustable bedroom light allows you to regulate the lighting levels of the room decoration light according to the illuminance levels in the space.
So far, room lights LED installations are considered the most energy-efficient option for art lighting and room decoration light. Therefore, whether it's generally lights for room, specifically for art-centric room, or art lights, LED lights room options will give you the best value for your money.
Excerpt
Bedroom wall art is a great way to add a focal point. However, to elevate your décor, you need to install art lighting. Here are the top ten bedroom lighting ideas for your bedroom wall art.
__________________________________________________________________________________________________________________________

Winny Okoth is a practicing Construction Project Manager and Interior Designer. She is also currently pursuing her Master's Degree in Construction Project Management. Winny Okoth has a great passion for every form of design and has the mastery of the principles of design. She also specializes in 3D visualizations skills for architectural and interior design renders.
---
---