Berthe Morisot - Making An Impression
---
`The name Berthe Morisot does not ring a bell for most people when thinking of the Impressionist movement. Instead, artists like Claude Monet, Edgar Degas, or Pierre-Auguste Renoir come to mind. But did you know that Berthe was a talented female painter and a founding member of one of the world's most memorable art movements? Tucked away in the margins of art history is a woman who exhibited with Monet, Degas, and Renoir, and she was regarded as an equal in their circle.
When Art Is Part of the Family
Berthe Marie-Pauline Morisot was a woman of sophistication and opportunity who was both well ahead of and a product of her times. Born on January 14, 1841 in Bourges, France, she grew up in a privileged family. Her father was a former architect and an influential local government administrator, while her mother was a relative of 18th-century painter Jean-Honoré Fragonard. Berthe had two older sisters and a younger brother. The Morisots later moved to Paris, where Berthe would continue to live for the rest of her years.
Berthe and her older sister, Edma, studied art at a young age. In the late 1850s, the Morisot sisters were taken by their teacher, Joseph-Benoît Guichard, to the Musée du Louvre. In the Louvre's grand halls, Berthe studied and copied the works of the great masters, as well as made friends with other budding artists. Guichard warned the girls' parents: "Given your daughters' natural gifts, it will not be pretty drawing-room talents that my instruction will receive; they will become painters. Are you fully aware of what that means? It will be revolutionary..." Despite the fact that they were not permitted to join art institutions, Edma and Berthe were respected in local art circles for their natural talent.
However, by the early 1860s, Berthe was quickly bored with studying the works of Rubens and Titian, and requested a new art teacher. Upon Guichard's recommendation, Berthe Morisot learned how to paint en plein air under the tutelage of Barbizon School painter Jean-Baptiste-Camille Corot.
Salon de Paris
In 1864, perhaps under the encouragement of Corot, two of Berthe Morisot's three paintings were accepted by the jury of the Salon de Paris—the highly anticipated annual art exhibition of the Académie des Beaux-Arts. Such a feat was unheard of for a young woman like her. Until 1873, Berthe's work would be displayed at the Paris Salon, where it was generally well-received.
Meeting Manet
In 1867, 26-year-old Berthe was introduced by mutual friend Henri Fantin-Latour to the charismatic Édouard Manet. Berthe and Édouard were creative heavyweights and acclaimed artists who had exhibited at the Paris Salon for years. The two formed a close working relationship and friendship that greatly influenced each other's painting style. Soon, Berthe was drawn to Manet's thoroughly modern approach. In turn, Édouard would portray Berthe in up to 12 of his works, including portraits.
Turning point
The next few years would prove to be very tumultuous for Berthe Morisot. In 1869, Edma Morisot married, and then moved to Lorient in the western coast of France. A year after, the Franco-Prussian War had begun, with the Prussians invading Paris and forcing citizens to flee. Berthe's father, however, being a government official, stood firm with his family at their Paris home. Berthe's studio was turned into barracks for soldiers defending the city. Fortunately, this harrowing point in Paris' history came to an end in 1871, and Berthe Morisot was painting once again. In 1872, 31-year-old Berthe Morisot marked the beginning of her career as an established artist, having been able to sell 22 paintings to French art dealer Paul Durand-Ruel.
Read also: Luminescent Journey of Light
Pioneering Impressionist
Through her connection with Manet, Berthe Morisot was drawn into the avant-garde artists who were gradually being rejected by the Paris Salon. Manet, however, preferred to show at the state-run exhibition and discouraged Berthe from going independent. She did not heed his advice.
By 1874, Berthe Morisot refused to show her work at the academic Salon. Upon the invitation of Degas and other artists rejected by the jury, Berthe Morisot joined a group of artists that would later be dubbed the Impressionists. Berthe Morisot participated in all but one of the Impressionist group exhibitions from 1874 to 1886.
Marriage and family life
On the same year she joined the Impressionist artists, Berthe Morisot married Édouard Manet's brother, Eugène. While Eugène was not as talented or famous as his older brother, he sacrificed his own ambition and wholeheartedly supported and managed Berthe's career. Marrying Eugène Manet provided Berthe with the social and financial stability to continue her artist's career. Berthe's brother-in-law, Édouard Manet, would cease from painting Berthe—his most frequent subject—after the marriage.
Four years after Eugène and Berthe married, the couple's only child, Julie, was born in 1878. Julie would become a main of source of artistic inspiration. Berthe matured as a core member of the Impressionists. Her home became a meeting place for French painters, writers, and other intellectuals.
Impressions of Inner World
Married to Eugène Manet and now raising their daughter, Berthe Morisot worked as an artist in addition to her carrying roles as a wife and mother. Long before the phenomenon of the working mom, Berthe successfully balanced her family life, her role in high society, and her career as an artist. Berthe Morisot paved the way for female artists in later generations, proving that you can pursue your career and family roles at once. Berthe even organized the last Impressionist exhibition almost single-handedly. A year later, Berthe's work would be included in the International Exhibition in Paris and in Durand-Ruel's show of Impressionist paintings in New York City.
After the demise of Impressionism as an organized movement, Berthe Morisot continued to work with avant-garde artists. She always exhibited her works under her maiden name.
By 1891, Eugène suffered from poor health. He died in Paris the year after. Nevertheless, Berthe Morisot remained steadfast in her painting. Although her works sold only for a few hundreds of francs while she was alive, she did outsell a number of fellow Impressionist painters. Berthe also had a solo exhibition in 1892 and, in 1894, the French government bought one of her oil paintings.
Death
Berthe Morisot remained an innovator in painting up until her passing. She died of pneumonia—an illness that she may have caught from her daughter a few years earlier—on March 2, 1895. Art history enthusiasts can visit her grave at the Cimitière de Passy in the 16th arrondissement of Paris.
After her death, French poet and philosopher Paul Valery said this about Berthe and her work: "[Her] uniqueness was to 'live' her painting, and to paint her life […] she took up, put down, returned to her brush like a thought that comes to us, is clean forgotten, then occurs to us once again." A year after Berthe's death, her friends organized the largest exhibition of her work, gathering more than 350 of her works.
Read also: Rembrandt Lighting The Angle for Existential Soulfulness
Legacy and Acclaim
Berthe Morisot lived in Paris all her life, and her works reflect the world of the late-19th-century Parisienne. Through her groundbreaking subjects and techniques, she blurred the lines between public and private, finished and unfinished.
Berthe had a keen eye for what the public wanted to buy and, as a result, her works sold relatively well in her lifetime. Her pastel-hued palette, skilled draftsmanship, and long and flickering brushstrokes were admired by fellow artists. Most importantly, Berthe's talents and skills earned her the respect of her male peers as an equal, which was very unusual in those times. She was also encouraging of other Parisian women artists, such as Eva Gonzales and Mary Cassatt.
Flooded with Natural Light
Berthe Morisot worked mainly with oils, and her canvases focus on her family and friends. Like the other Impressionist painters, Berthe preferred painting outdoors in the natural sunlight, called 'plein air painting', and her paintings are flooded with natural light.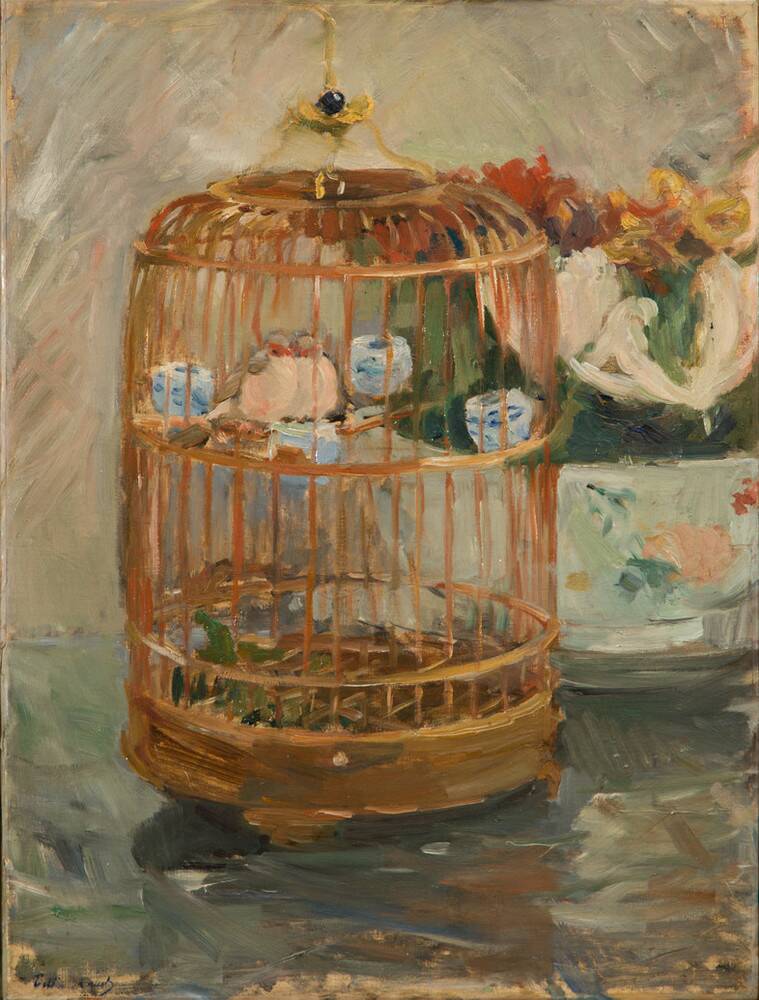 Berthe's compositions are domestic and intimate. Her subjects range from rural landscapes, seascapes, and urban and street scenes to portraits, nude figures, and still life's. Berthe worked with a variety of media, including drawings, pastels, and watercolors. As an artist, Berthe Morisot was often commended for the uniquely feminine charm she brought to her works. Unlike her male peers who painted women as objects and spectacles, Berthe painted her female figures with a dignified and gentle grace that only a woman can portray.
Read also: Yellow Symbolism - An Explosion of Color
Looking at the Artist And Her World
Because she was female, Berthe Morisot was prohibited from painting the typical subject matter that was available to most of the male Impressionists. As a bourgeois woman, she was not permitted to enter—much less portray—the seedier aspects of urbanity, such as cabarets, cafes, and brothels. In contrast, Berthe Morisot's work reveals her own access to aspects of feminine life in the late 19th century. This includes intimate moments generally closed off to men.
Today, Berthe Morisot's works can be seen in the halls of the Musee d'Orsay in Paris, the National Gallery in London, the Metropolitan Museum of Art in New York, the National Gallery of Art in Washington DC, and the Art Institute of Chicago, among other highly esteemed museums and institutions.
Berthe Morisot was a founding member of Impressionism. Yet, why isn't she a household name or part of modern-day pop culture, like Vincent Van Gogh or Frida Kahlo? Is it because her works were unlike those of her male colleagues? Is it because her life story is not as tragic or dramatic?
It is a shame that her oeuvre is underrepresented in the world's greatest museums. Moreover, labeling Berthe Morisot as a woman Impressionist is not enough to describe someone who had the courage to pursue a professional artistic career despite conventions. As the New Yorker art critic Peter Schjedahl wrote in reaction to a multi-museum exhibition on Berthe Morisot in 2018, it is like saying "Georges Braque: Man Cubist."
_____________________________________________________________________________________
Carla Martinez-Tensuan is a writer who specializes in the museum education and exhibits, arts, interior design, and home décor.
---
---